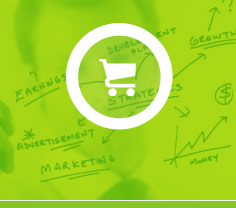 Vendors

Sell products online
How to start selling?
| | |
| --- | --- |
| 1 | Open free account |
| 2 | Add your product to Marketplace |
| 3 | Place payment buttons on your website |
| 4 | Relax and enjoy your income! |

Easier way to

sell and earn more
Total control of your sales and affiliates
"Private" affiliate management system is like a true in-house affiliate program. While you receive money from your sales directly to your merchant account, it is only up to you to decide on every other aspect of your e-business: selective group of affiliates, affiliate payments (who, when, how), refunds, etc. Have a total control of your business via reliable, user-friendly and safe system.
In order to start selling products you only need a PayPal (or any other of 12 online payments or credit card processors) account and you are good to go!
Key features of PRIVATE Affiliate Management:
ability to run private affiliate programs

You will have the ability to create your own affiliate programs on your website and attract affiliates to join them. [Show more]
Click2Sell affiliate tracking system is widely recognized by affiliates themselves, thus they will be assured that their earned commissions by promoting your products will be calculated correctly. Affiliate registration process is very quick (just several minutes), so your new affiliates will be able to start promoting your products immediately.

complete control of your affiliates and payments

Only you decide how often you want to pay your affiliates and when to pay them.

[Show more]

Weekly payments or monthly payments? Just 1 day for clearing affiliate sales or 30 days? Anything in between? It's your choice.

You will be able to set up such things for affiliate commissions:

clearance period (1-30 days):
period of time to wait for an affiliate sale to become valid (cleared). Once an affiliate makes a sale that sale enters the 'clearance period' – the time period when affiliate commissions are not generated for affiliate to be paid. This helps you protect yourself from possible affiliate sales refunds or chargebacks and protect yourself from situations when you pay out affiliate commissions and later the refund or chargeback comes.
commission payments frequency:
determines how often you'll pay commissions to your affiliates. Click2Sell system will generate settlements for cleared affiliate sales in your specified frequency. For i.e. if you select to pay out your affiliates 'bi-weekly' Click2Sell system will generate affiliate commission invoices for you to pay every 2 weeks for those sales that are 'cleared' – after the clearance period.

regularly monitored affiliates

We monitor all Click2Sell affiliates for spamming, scamming or any other fraudulent activities, so you don't have to worry about legitimacy of your affiliates. We'll take care of it! [Show more]
Many vendors face a huge problem with their affiliates' fraudulent sales. Here on Click2Sell we continuously monitor each and every affiliate for fraud. Our own developed anti-fraud system automatically detects all fraudulent activities and terminates such 'affiliates'. You don't have to do any screening on your own. You can be sure that your business will always be safe on Click2Sell.

convenient tools to keep in touch with your affiliates

Click2Sell Mailer allows you to contact all your affiliates directly from Click2Sell system and announce all your promotional campaigns and new product launches. You can send them regular newsletters or just contact some certain affiliate. [Show more]
This will help you to avoid situations when you update your existing products and slightly change your websites, but your affiliates keep promoting the old products and lead people to old web-pages.

Another useful purpose of the Mailer is to inform your affiliates about special rewards for bringing the most sales. Easily keep your affiliates excited and boost your total number of sales!

absolute freedom in running your business

Click2Sell does not put any restrictions on you. You determine the policies, you provide guarantees, you handle refunds / chargebacks. All affiliates are yours and you have a full control what to do with them – approve, deny, contact, encourage and so on. [Show more]
If your customer contacts us for a refund, the customer will be politely redirected to you. Click2Sell will not cancel any of your sales on behalf of you.

As long as your products are not illegal (please check our "Prohibited products list") and do not have excessively high refund rate (like 30% or more), Click2Sell will not interfere in any area of your business.
The essence of the PRIVATE Affiliate Management System: you get payments from customers directly to your merchant account and completely control your affiliate program – you pay affiliates yourself.
Click2Sell fee
It will depend on the price of product you sell.
[Show details]
If product price is up to 19.99 USD, then 1 USD fee/sale will be applied.
If product price is 20 USD – 39.99 USD, then 2 USD fee/sale will be applied.
If product price is 40 USD or more, then 3 USD fee/sale will be applied.
No set-up fee.
No hidden fees.
Remember – when you use PRIVATE Affiliate Management System we don't ask any questions about your business – it's yours and you run it like you want to!