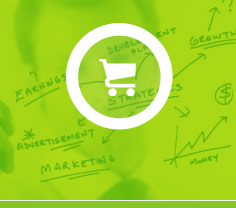 Vendors

Sell products online
How to start selling?
| | |
| --- | --- |
| 1 | Open free account |
| 2 | Add your product to Marketplace |
| 3 | Place payment buttons on your website |
| 4 | Relax and enjoy your income! |

Easier way to

sell and earn more
Outsource affiliate commission payments
Hybrid Affiliate Management System gives you the best things from two opposite worlds of payment processing and affiliate management: use your own merchant account for getting money from your sales and completely automate and outsource commissions payments to your hundreds or thousands of affiliates.
In online business you usually have to make a choice: either you want to receive money from your customers directly to your, let's say, PayPal or Authorize.net merchant account and then pay your affiliates yourself (PRIVATE Affiliate Management System approach) OR you may want some reliable company to collect money from your customers and pay all commissions to your affiliates instead of you (COMPLETE Affiliate Management System approach).
Both ways are very different and have their own advantages and disadvantages. Hybrid affiliate management system takes use of Click2Sell distinctive flexibility to get the best from the 'both worlds'. The main purpose of Click2Sell HYBRID Affiliate Management is to join the most important benefits of these two very different business approaches and eliminate negatives of them as well. Such synthesis produces a very new, unique and innovative way to manage your business and affiliates.
Key benefits:
Accept payments from your customers directly to your merchant account.

No more waiting for checks or long delayed money transfers. Click2Sell works with many payment gateways (like PayPal or Authorize.net) smoothly.
Show the complete list of 12 supported payment gatewaysClick2Sell securely works with: PayPal, Skrill, Google Checkout, Worldpay, Authorize.net, eWay, LinkPoint, First Data, Your Pay, PayPoint, Moneris, Sage Pay (former Protx), Optimal Payments, Ogone.




Retain control of various aspects of your business

100% control of your business policies, money back guarantees and refunds.




You can sell any product you want

Digital or media products, various one time services, material goods, memberships, subscription based services - you can sell virtually anything.




Pay Affiliates easily

Use your Click2Sell Balance to easily pay your affiliates who use many different payment accounts or currencies. Pay just once to pay hundreds of your affiliates.




Use integrated Click2Sell Affiliate Network to boost your sales

Your products will be listed in public Click2Sell Marketplace which is frequently visited by Click2Sell affiliates.




Your products will also be available to many 3rd party software / services

Click2Sell marketplace is fully available in XML data. Widgets for websites/blogs, text ads, auto-website generators, major databases of products for affiliates – all of them use XML data of Click2Sell marketplace. Thus your products will be available to them as well!



The essence of the HYBRID Affiliate Management System: you process payments directly to your merchant or Paypal account and thus get paid instantly after sale. You can completely control all your affiliates, recruit new ones and run your affiliate programs, but at the same time Click2Sell takes care of paying all your affiliates automatically. Just make sure that your Click2Sell Balance has enough of funds to cover commissions for affiliate sales.
Requirements
[Show them]
Merchants using Hybrid Affiliate Management System will have to fulfil one of the following requirements below in order to have their products listed in Click2Sell marketplace:
PayPal API data saved in Click2Sell account or

Pre-pay $50 to your Click2Sell Balance for your future commission payments or

Enter credit card details, so that Click2Sell system would be able to charge your card right after affiliate makes a sale and reserve a commission.
Click2Sell fee
It will depend on the price of product you sell.
[Show details]
If product price is up to 19.99 USD, then 1 USD fee/sale will be applied.
If product price is 20 USD – 39.99 USD, then 2 USD fee/sale will be applied.
If product price is 40 USD or more, then 3 USD fee/sale will be applied.
No set-up fee.
No hidden fees.